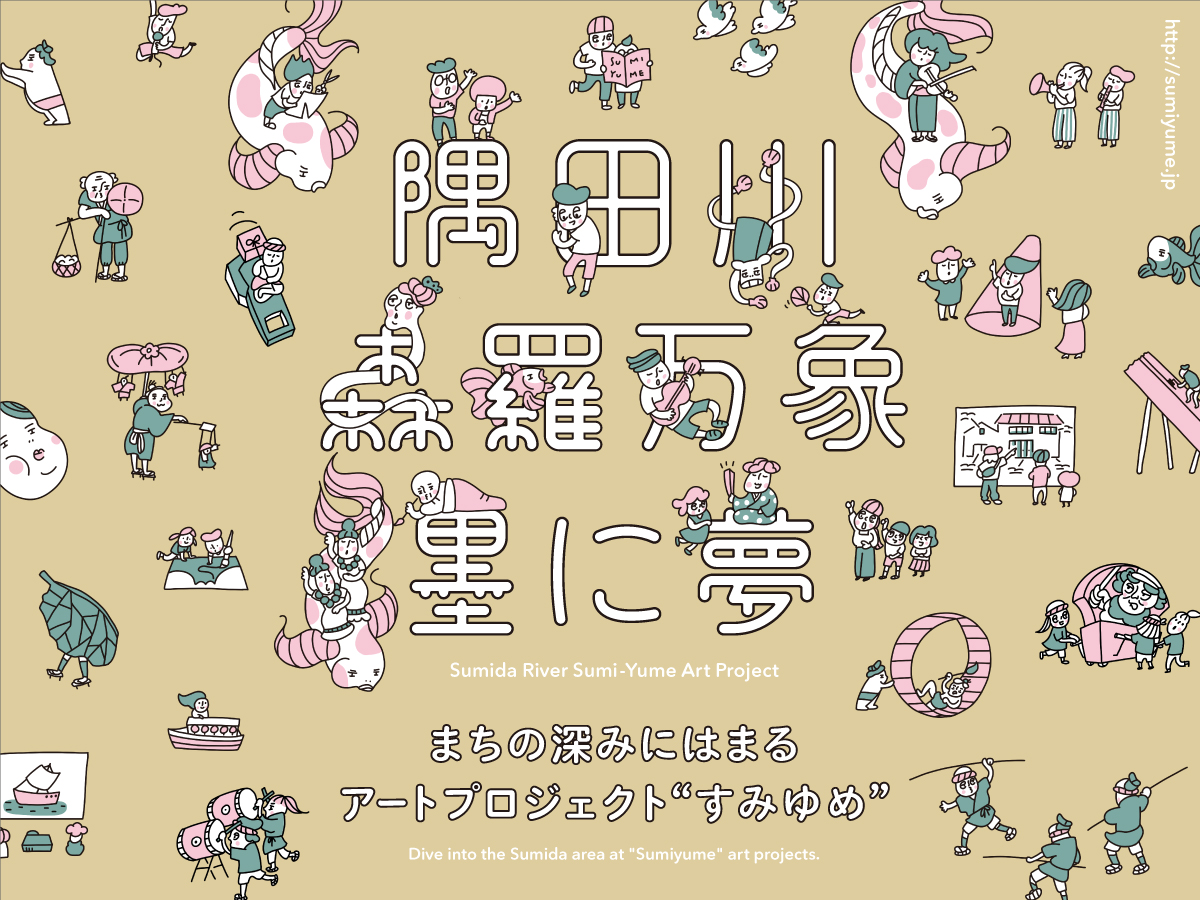 "The Sumida River Sumi-Yume Art Project" (popularly known as "Sumiyume") began in 2016 on the occasion of the opening of the Sumida Hokusai Museum. Katsushika Hokusai, an artist who pursued a universe of phenomena, spent the 90 years of his life in the Sumida area. Like little ink-painted dreams colored in by people from various walks of life, we aim to paint the Sumida area in vivid colors while connecting people who are active not only in the arts and culture, but in all types of expression.
With autumn as the main program period, we have thus far solicited projects on the principal themes of the Sumida River and Hokusai—two important Sumida-area resources—and carried out diverse activities in such locations as boats and waterside terraces, parks, shopping districts, and unused facilities. We also form human networks and encourage cooperative activities by holding the "Sumiyume Dance Parade," an event bringing together participating groups and local people; and a monthly "Gathering" promoting information exchange and interaction.
In 2019, the 170th anniversary of Hokusai's death, the 4th "Sumiyume" will focus attention on the global subject Hokusai and the quintessential Tokyo river, the Sumida. The project will further enhance the area's appeal through programs that embody the unique "Sumida" spirit. Everyone is welcome!
Sumiyume 2019 Project Outline
Main period : Sunday, September 1 – Wednesday, December 25, 2019
Organized by : Sumiyume Executive Committee, Sumida City
Supported by : YKK Corporation, Arts Council Tokyo, Tokyo Metropolitan Foundation for History and Culture
Project presented by the Sumiyume Executive Committee
1. "Sumiyume Dance Parade"
Inspired by the Hokusai work "Dance Parade," a "DJ Bon-Dance Event" produced by Yuichi Kishino will be held on Sakurabashi Bridge, which spans the Sumida River. In addition, shadow play artist Koheisai Kawamura will put on a new work created with area residents on the themes of Hokusai and water.
Sakurabashi Bon Dance

Dates : Sunday, September 22, 2019, 16:00-20:00
Locations : Sakurabashi Bridge

Shadow Play Performance: A Circle of Oil and Water

Dates : Sunday, September 29, 2019, 18:00–19:00
Locations : Midoricho Park, Sumida Hokusai Museum Lecture Room

2. KOSUGE1-16 "Dondoko! Giant Paper Sumo Wrestling – Ryogoku Sumiyume Tournament"
The participatory project "Dondoko! Giant Paper Sumo Wrestling Tournament" will be held in Ryogoku, the home ground of professional sumo. Giant paper wrestlers will be created at a traveling workshop held in "sumo stables" set up in different parts of Sumida-ku. In the final-round tournament, wrestlers from each stable will come together and compete in league matches and a tournament match, and then a winner will be selected.
Date : Sunday, October 13, 2019, 13:00-16:30
Final round venue : AZ1 Hall, YKK60 Building
3. Yasuhiro Suzuki's "Ship of the Zipper"
Artist Yasuhiro Suzuki is known for creating works that provide a fresh take on familiar everyday landscapes and change the way we see things. One of his best known creations, the "Ship of the Zipper," will sail on the Sumida River. As it plies the Sumida, which today serves as an urban boundary line, the zipper ship will open and connect the river's surface.
Period : Saturday, November 2 – Sunday, November 10, 2019, 12:00-14:00
Location : Sumida River between Azumabashi and Sakurabashi
Open call projects
Projects on the themes "Sumida River" and "Hokusai" will be solicited through an open call. The projects selected through a screening process will be carried out in various locations in Sumida-ku during the main period.
MAIL MAGAZINE
メルマガを無料配信しています!
今すぐ登録を!!
まだメールマガジン登録は完了しておりません。

登録したメールアドレス宛に承認案内のメールを送信しましたので、

確認の上、承認をお願いします。
※承認確認のメールが届かない場合は、

お手数ですが再度メール登録をお願いします。

イベント情報へのお問い合わせはこちらまで

「隅田川 森羅万象 墨に夢」
 実行委員会 事務局
(公益財団法人墨田区文化振興財団 内)

03-5608-5446(平日9:30〜16:30)
sumiyume@sumida-bunka.jp